Youth Leaders in the News
Subscribe to posts
Alex Ori, Staff Writer • June 10, 2017
On Tuesday, May 23 the Chicago Cultural Center was hosting the annual Mikva Challenge Action Civics Showcase, so colorful poster boards fill the jam-packed room on East Washington Street in Chicago. One yellow board's heading read, "Bringing School Spirit to Roosevelt" while another red trifold poster was decorated with bubble letters that spelled out "Technology for All." Students all across the city stood by their boards as peers, volunteers, and judges floated through the poster maze.
For the past 15 years, the Mikva Challenge has hosted the Showcase for students from all around the Chicago area to present their projects about current civic issues that interest them.
This year, two groups of Parker students presented their Civic Engagement projects. Junior Karoli Esparza and sophomore Carlos Lopez presented about the Latin American Student Organization (LASO) at Parker, and juniors Grace Buono and Maya Sanghvi presented their Civic Lab project about U.S. Immigration on federal and community levels.
The Mikva Challenge's main goal, according to their mission statement, is to "develop youth to be informed, empowered, and active citizens and community leaders." They do this by providing students with opportunities to get involved with issues from local to federal levels.
Students take the work they do in classes or in school clubs and then present to other students, civic leaders, politicians, and business leaders, for one big "science fair of social justice," as Upper School History Teacher Jeanne Barr puts it.
Abner Mikva, the organization's founder, was an American politician from Hyde Park whose accomplishments include having served five terms in Congress, advising President Bill Clinton, and being Chief Judge to the U.S. Court of Appeals for the District of Columbia. Two of Mikva's grandchildren, Rebecca and Jordan Cohen graduated from Parker in 2005 and 2008, respectively.
Head of Civic Engagement Shanti Elliott, who reached out to Parker students to participate in the showcase, heralded the opportunity. "It's a great way for Parker students to be able to learn about what other youth leaders in Chicago are working on," Elliott said, "and for them to share their own interests, passions, and projects."
As Esparza and Lopez showcased their LASO presentation to judges, they had one goal in mind. Esparza said, "It's important to show the community that the Parker community has LASO."
In their presentation, Esparza and Carlos talked about the various teach-ins that the organization has held, such as the one on Latino Writers and the one on Deferred Action for Childhood Arrivals DACA). Esparza said, "The main focus of the presentation was about how we are teaching our school about Latino culture."
To Esparza, one of LASO's main purposes is to serve the Parker community as a platform of education about the Latino culture. "I think it's very important to educate people about our culture," Esparza said, "but not only that, to educate people in the right way, so culture appropriation doesn't take place."
Buono and Sanghvi's presentation covered what Buono's Civic Lab did throughout the year, such as meeting with the U.S. Immigration and Customs Enforcement (ICE), going to the Chicago Immigration Court, and following the activism that's taking place with sanctuary cities.
"The main point is to raise awareness and allow the people viewing the presentation to understand a little bit more about what's happening," Buono said. "I think that it's really important for people to know what students can be doing."
As part of Buono and Sanghvi's presentation, a petition was passed out that asked for expansion of sanctuary in Chicago. A sanctuary city is a city "that limits its cooperation with the national government effort to enforce immigration law," according to Wikepedia.
Sanghvi believes that her presentation with Buono was on "a really current topic right now, city wide and federally."
The Action Civics Showcase brought together schools from different neighborhoods, moreover, which Sanghvi enjoyed.  Sanghvi said, "It was cool to get to meet people from around the city and see what issues are important to kids our age."
Senior Program Director at Mikva Challenge Steven Rosado works with CPS and Mikva to develop student-created health and wellness programs. He believes that students should start early when becoming engaged with their citizenry. "You have to practice involvement as a young person if you are going to be involved as an adult," Rosado said. "This showcase is practicing students to be life long people engaged in their community."
Rosado thinks The Mikva Challenge is helping students become better citizens. Rosado said, "We are giving students the tools and the confidence to think about even bigger issues beyond their community but across the city, the country, and the world."
Barr, who is one of the Civic Lab heads, feels that Civic Engagement is a fundamental part of Parker. "If we only have our education confined to the four walls of the classroom, then we limit ourselves," Barr said. "Civic engagement is learning by doing, and that's the mission of the school."
Barr believes it's important for Parker students to express their civic work in the Mikva Challenge Presentation. "The showcase is about connecting youth across whatever the boundaries are, may they be geographical, or sociological, socio economic status-wise, things that keep people from knowing each other," Barr said. "It collapses that into a common space of social justice and for Parker kids to see what other kids care about."
Link to original post of article: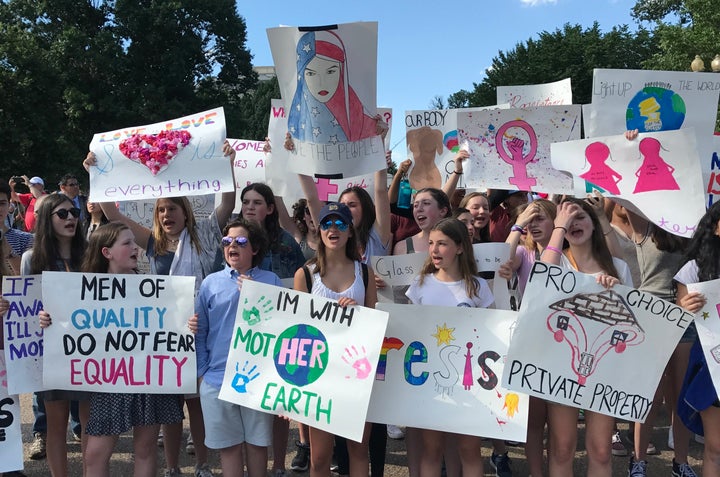 Check out what's been happening on the 8th Grade DC trip!!! Our kids happened upon an opportunity to share their voices just as Mr. Trump finished announcing his decision on the Paris agreement...
Baring and Draheim so lack confidence that they will inherit a healthy planet that they are suing the United States government for failing to adequately protect the Earth from the effects of climate change.
January 3, 2017 (Chicago, IL) — As part of a national and statewide movement, the Women's March on Washington – Illinois Youth Chapter will join thousands of other people in Washington D.C. on January 21st, the day after the inauguration of President-elect Trump, to stand in solidarity against the hateful rhetoric of this past election cycle.
Full article: 
http://chicagowomentakeaction.com/2017/01/4917/
Close to 100 students and youth were arrested on Parliament Hill today for their participation in what organizers describe as "the largest act of youth-led climate civil disobedience in Canadian history."
"I came to Ottawa today to risk arrest, and ultimately to be arrested," Gabriel D'Astous, a recent UBC graduate, explained to Ricochet by phone. "I want to send a message to the prime minister that he must have a climate policy which respects not only climate science, but Indigenous rights, and that means rejecting the Kinder Morgan pipeline."
As teachers and students return to classrooms this fall, together we have to try to make sense of a tumultuous presidential campaign and a summer of racial violence that have forcefully surfaced the racism that plagues our nation.
Elementary and middle school students have grown up with an African American as president of the United States. This is a historic milestone. But these same students have also grown up in a nation that's increasingly unequal, a country where police killed more Black people in 2015 than were lynched during the worst year of Jim Crow.